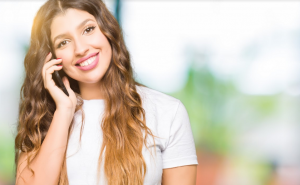 Making over your smile is something that can boost your self-esteem and make you want to say "Cheese!" whenever you can…camera or not. Cosmetic dentistry is a dream come true for some patients who are insecure about their teeth or have issues with form and/or function.
Dentistry is not only about health and hygiene. It also involves aesthetics and appearance. After all, your smile is the first thing people see when they meet you, so why let yours look anything less than exceptional?
Here at Lockhart Dentistry, we can transform your teeth with a variety of dental cosmetic procedures that will make improvements you'll be excited to show off. Combining craftmanship with attention to detail, as well as years of practice and professional results, Dr. Lockhart will do wonders whether you need a minor touch up or a major makeover.
The main cosmetic procedures we provide are veneers, bonding, whitening, crowns, implants, and dentures. We also straighten teeth through orthodontics with Invisalign.  Each procedure is fine-tuned to fit the patient's needs and desires, while maintaining a natural look. Here's some information you should know about these smile fixer-uppers and a better understanding if one or more of these procedures would be worth your while.
Why would veneers be a good option for my smile makeover?
Veneers are great for people who have teeth that are stained or discolored, chipped, cracked, misaligned, or have metal fillings. They are made of porcelain and are super thin. Designed to cover the front of the tooth, they are natural in color, shape, and size, and can completely change the look of your smile. We measure your teeth and have the veneers crafted in a lab, so you'll come back for a second visit to bond them to the teeth. Once they are adhered, they are ready to go. Plus, veneers are stain resistant and long lasting. We can discuss if veneers are a good option for you during your consultation.
Would bonding be a better option if veneers are not required?
Bonding works well when it comes to simple problems that need a quick solution. Great for spaces/small gaps, chips, or minimal reshaping, this carefully layered resin compound will match your tooth color and fill in those spots that need some rebuilding. The process is relatively quick, painless, and perfects teeth that don't require too much cosmetic reconstruction.
My teeth are not as white as I would like them to be. What can be done to deliver a dazzling smile?
We offer two terrific services for teeth whitening. Far better than over-the-counter treatments you can purchase at the pharmacy, these options are long-lasting and get teeth multiple shades brighter. You can go for the deep bleaching max where you'll be fitted for custom trays that will be worn at home at nighttime for two weeks. Then you will come to the office for the second phase for a one-hour treatment that will give teeth a tremendous brightening boost. The other whitening option is our take home trays that are customized to fit your mouth. They get filled with a whitening gel and are worn for an hour each day. It will take approximately two weeks to see the final results.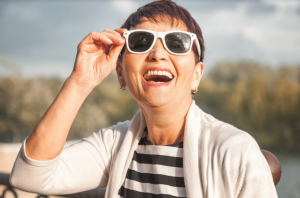 Why might I need a crown?
Crowns are fitted over the teeth when teeth are cracked, misshaped, misaligned, stained or discolored, or otherwise imperfect. We also cap teeth after root canals to protect them. Crowns look natural, feel comfortable, and support teeth that are weakened or damaged. They are long lasting and strong, and function just like normal teeth would.
I have missing teeth. Would implants help repair my smile?
Implants are placed into the jaw for stabilization so they can stay in the mouth permanently. This is a rather long process because first the jawbone must fuse to the artificial tooth root before the implants are anchored to the root. But once the process is complete, you will have new teeth that are strong and natural looking. We can replace one tooth or multiple teeth without compromising the surrounding healthy teeth.
What about dentures? Are they an option for improving the look of my smile?
We can fit you for complete or partial dentures depending upon the status of your smile. Complete dentures are used when the teeth are completely removed, and partial means that some healthy teeth remain. And don't worry about your dentures looking unnatural. The design has come a long way since those old-fashioned dentures your grandparents once wore! Once they are in and you get used to them, they are comfortable and secure. You'll have to clean them responsibly, and we will give you instructions on how to do so, so your mouth stays healthy and your dentures remain fresh.
Is it your moment for a smile makeover? Call us at Lockhart Dentistry for a consultation, and before you know it, your smile will be a real showstopper! Our number is (317) 849-9715.