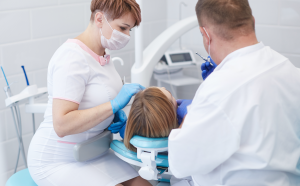 If you have a visibly chipped, cracked or stained tooth, you may feel uncomfortable showing your smile to others. An imperfect smile can make you harbor feelings of insecurity and may even prevent you from attending social functions if severe enough. But an easy, affordable and modern solution is available to give you the smile you finally love – dental bonding. 
Dental bonding is a common procedure used to correct tooth imperfections. A dentist will inject a composite resin that matches your tooth shade to the site of the flawed tooth or teeth to camouflage the defect, thereby creating an overall appearance that is visibly uniform. 
Dental bonding is one of the many procedures we do routinely at Lockhart Dentistry, so you can trust us to educate you on the techniques used and why it may be the best fix for your smile.
Why is dental bonding used?
Dental bonding is used as a quick and effective repair for dental imperfections. You can choose a dental bonding procedure to fill gaps, restore discoloration, correct decayed enamel, repair chips and even to lengthen teeth that may be shorter than others. For many patients and dentists alike, it is the preferred method of dental restoration, say over crowns, fillings and veneers, since it is a simple, successful and inexpensive procedure. 
Your tooth or teeth can be bonded in one short visit to your dentist, with the process taking an average of 30 to 60 minutes per tooth. And in most cases, anesthesia is not required, unless you need a cavity filled, which is great news for dental patients who suffer adverse effects from going under anesthesia or who just prefer getting on with their day after a trip to the dentist. 
A typical dental bond can last about four to eight years before needing to be replaced, depending upon the location of the bonded tooth, as well as on lifestyle and dietary choices.
What are the benefits of dental bonding?
Because it is a cosmetic procedure, dental bonding has the benefit of fixing a tooth or teeth you feel uncomfortable with and wish looked better. In just a few simple steps, you can have a more radiant and confident smile. 
Dental bonding is also typically less expensive than crowns, veneers and fillings. Because dental bonds are made with composite resin, they're also stronger and less likely to chip compared to other dental restoratives, although not as strong as your natural enamel. And with little to no prep time required, your dental bonding procedure can begin and be completed in just a single visit to your dentist, making it an especially attractive option if you prefer fast and simple corrective dental solutions.
While many patients may be wary about undergoing certain dental procedures, many feel assured knowing that dental bonding is one of the least invasive. In most cases, zero to minimal tooth removal is necessary, with your dentist being able to give you the specifics on your individual oral health needs.
What is the dental bonding procedure like?
A dental bonding procedure is typically quick, painless and simple. Only a few steps are needed to prepare, apply and set the composite resin dental bond.
Initially, your dentist will use a shade guide to find the perfect shade of composite resin to match the natural color of your teeth. Then, your dentist roughens the surface of the tooth that needs the dental bond so the resin will adhere properly. Next, a liquid is applied to the roughened surface, which affixes to the dental bond. After the composite resin is in place, your dentist will mold the tooth as needed to match the natural shape of your teeth. The dental bond is then set and hardened with an ultraviolet light or laser. 
That is typically the end of the procedure, although your dentist may deem it necessary to further shape and polish your tooth after the resin is set, all in the name of a perfect finish.
After the procedure, you are free to carry on with your day, as well as eat and drink as you normally would, with no downtime required in most cases. 
If your dental bond was created to repair a cavity or is at a sensitive site, such as near the gums, then your dentist may recommend a topical anesthetic to limit discomfort. If this is the case with your procedure, you may need to relax for a while while the anesthesia wears off.
Why should I choose Lockhart Dentistry for my dental bonding work?
Lockhart Dentistry has provided individuals and families with expert dental care for decades. It is our goal to make you feel comfortable and to help you choose the right dental procedures for you and your family. We practice both cosmetic and family dentistry, with a staff that strives to make your day as bright as your smile.
If you think dental bonding may be the solution for your oral health, give us a call today at (317) 849-9715 and we'll go over everything you need to know about this safe and simple procedure.
You can also request an appointment with us by using our easy online portal. Once you do, you'll be one step closer to a beautiful, healthy smile you can be proud of.