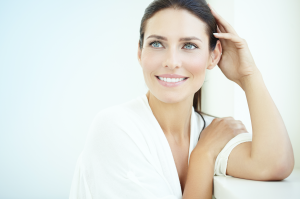 The beginning of a new school year means that your child will have an opportunity to start things on the right foot! Part of that process should include scheduling in a visit with your dentist. A beautiful smile not only exudes confidence, but it can be a critical part of helping kids get back into the swing of things in a new school year. Don't wait for another time to brighten your family's smile—the time is now! 
Cosmetic Dentistry Options
While a general checkup is certainly in order, other treatment options can help perk up your smile. Cosmetic dentistry includes treatments that focus entirely on the look of your teeth. Even if your smile is a healthy one, you may have some concern about its appearance. That's when cosmetic dentistry plays an important role. At Lockhart Dentistry, we offer a multitude of cosmetic dentistry options to help you get the smile that you deserve. Here are a few of our most requested treatments.
Teeth Whitening Treatments
Teeth whitening treatments are always a patient favorite. There are two options available, including a deep bleaching max and a take-home treatment. Deep bleaching max is most appropriate for individuals who have extensive discoloration and need a boost to get things started. The take-home trays are designed for less serious cases and maintenance treatments. The knowledgeable staff at Lockhart Dentistry will be able to help you identify which option will yield the best results for you. 
Porcelain Veneers
If you suffer from discolored, stained, or chipped teeth, then porcelain veneers can restore your smile. Veneers completely cover your tooth, which gives you a gorgeous smile that still appears natural. Patients should expect an initial consultation as well as two visits to complete this treatment plan. Keep in mind, veneers are long-lasting but may require additional treatments in the future. 
White Fillings
Have cavities? No problem. White fillings allow you to remedy the problem area in a virtually undetectable way. The durable resin blends in with the natural look of your teeth, and look better with any whitening services that you may select. You won't have to worry about people noticing your fillings with this convenient option. 
Short-Term Orthodontics
Crooked or gapped teeth can detract from your overall appearance. Lockhart Dentistry offers two short-term orthodontics options that include:
Both of these options will result in an incredible smile without the lengthy commitment that comes with traditional metal braces. 
Bonding
If your teeth need a little bit of work, but you aren't quite at the point that you need veneers, then bonding may be the right choice for you. Bonding allows patients to slowly build and reshape teeth that may need a little extra attention in order to look their best. This approach is easier and less invasive than other treatment options. It may also be more economical in some cases. The current state of your teeth will determine if this is a realistic solution for you. 
Importance of Maintaining Oral Health 
One of the primary reasons that it's so important to schedule a dentist appointment before school begins this year is because it offers a jumpstart on your oral health. So often, school-aged kids are eating and drinking foods that can wreak havoc on their teeth. A check-in with their dentist can get them back on track. 
Not to mention, focusing on dental health from an early age can help kids avoid gum disease or the need for extensive dental work. This is all about starting healthy habits, which can lead to a lifetime of good oral hygiene. 
Tips for Oral Hygiene  
Scheduling a dental checkup is undoubtedly an excellent place to start, but there are other tips that you should incorporate in order to achieve your best smile. A few guidelines to follow:
Brush and floss regularly

Eat a healthy diet

Brush properly

Use fluoride toothpaste

Don't neglect tongue and gums

Add mouthwash to your routine

Change out toothbrush regularly
Doing these simple things can certainly go a long way in ensuring that you have a healthy smile. Your dentist can offer additional guidance for your specific oral health needs. There's no reason to suffer in silence. If you're unhappy with your smile, then it's time to do something about it! 
Schedule a Consultation 
Lockhart Dentistry offers a variety of options when it comes to maintaining your smile. If you would like to know more about our services, please contact our office to schedule an appointment. You can reach us at (317) 849-9715.