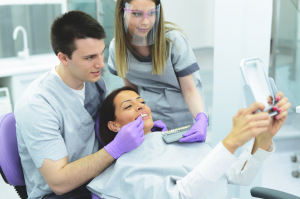 When teeth are not "picture perfect," patients may be self-conscious or simply dissatisfied with their smile. There are a variety of ways to improve the appearance of teeth, one of which is by getting veneers (also known as laminates) placed. They can change one's look dramatically or just a bit depending on the patient's goals and severity of his or her situation. But no matter the situation, when Dr. Lockhart works his veneer magic, the results are always astounding. Natural looking and far nicer than before, this type of cosmetic dentistry results in a dazzling smile you will be proud to show off. Professional work leads to a positive outcome every time.
What are the veneers made of?
The veneers we use at our practice are created with porcelain crafted into super thin layered sheaths.
What if the color does not match my teeth?
No worries about a mismatch. Each patient is unique and so are their veneers. We aim for a match that is as close as it can get, but if you are seeking a whiter, brighter smile, yours will be designed in a shade that is lighter than your natural teeth, provided that we cover enough of the front teeth so that you cannot see any that are not this new color when you talk or smile. Veneers are never a "one size fits all" solution.
Can I select any tooth shape I want?
During your consultation, you will discuss your goals and the look you are going for. That said, Dr. Lockhart will recommend a suitable shape and style that best compliments the shape of your mouth and alignment of your teeth. Achieving a natural look is the goal, so you don't want it to be obvious that your teeth are cosmetically enhanced. You also want to be able to speak and chew normally, so too big or too small a size may affect this if not properly planned out.
Am I a good candidate for veneers?
Veneers are an excellent option for those with stained or otherwise discolored teeth. They also cover up chips, cracks, misalignments, and metal fillings, as well as worn down teeth or large spaces between teeth. They are meant for placement over the front teeth (not molars and pre-molars), so since these are the teeth people see when you smile, creating a more aesthetically pleasing look is what most patients are after. You may not be a good candidate if your teeth are severely crooked, if you are missing teeth, or if you have decay. You cannot get them if you wear braces. Talk to Dr. Lockhart and he will let you know what would be best for you after a thorough dental examination.
How long will the veneer process take and what's involved?
The process will involve two trips to the office. During the first visit, we will assess your teeth, perform a comprehensive exam, and remove some of the enamel from the tooth's front surface so the veneer doesn't protrude once placed over the existing tooth. An impression will be made of the tooth which will be sent to the laboratory where the veneers will be crafted with care. While the veneers are being made you will wear a temporary set of veneers. In a few weeks' time, the veneers will be sent to the office and you are ready for bonding. The teeth will be cleaned and slightly etched so the bonding agent holds best. A light beam will cure the bonding element and veneer to the tooth. Once everything is in place, any excess bonding agent will be removed and you'll be good to go.
How do I properly care for my veneers?
Consider them the same as your natural teeth. Brush and floss as usual, and don't ever use your teeth as a "tool" to open containers and such. If you tend to clench or grind your teeth while you sleep, we will recommend you wear a night guard to prevent wear and tear. Otherwise, there is no special care required for veneers. And they'll last for many years if you maintain good oral hygiene and care for your teeth.
Must I avoid dark-colored drinks like coffee, tea, wine, and soda pop so my veneers don't stain?
Good news. Veneers are virtually stain-resistant. Drink whatever you want without worry. Just maintain your oral hygiene routine to keep your teeth clean as you would without veneers over your teeth.
Veneers are an excellent appearance enhancer. Smiling with confidence will be your new standard. Schedule an appointment for a consultation with Dr. Lockhart and you will soon be on your way to a set of teeth that are nothing short of terrific. Give us a call at your convenience at (317) 849-9715 or discuss the option of veneers the next time you're in for a cleaning.