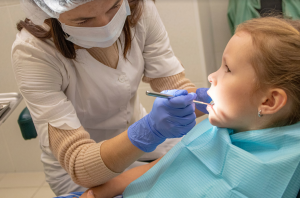 Families can be complicated. There are few one-stop solutions for your entire family's health. Your children need to see your pediatrician, moms schedule annual appointments with their OB/GYN, and dads see a general practitioner for their yearly checkups. It can be hectic to make sure that everyone stays healthy with all the appointments you need to set up and attend.
However, family dentistry is designed to address the oral health of every single member of your family. Through family dentistry, you can take the entire family to a single location on a single day for your regular dental appointments. Lockhart Dentistry is proud to be a family dentist for our patients. Request an appointment online today. 
What exactly does family dentistry entail?
Regular dental appointments — two times per year for most people — are crucial no matter how old the patient may be. Family dentistry covers everything from six-month cleanings and examinations that come with preventative care to treatments that may need to be scheduled based on your examinations.
In particular, family dentists are attuned to young patients' needs. Family dentists are trained to address prevention and treatment for children — including putting their unique needs first and considering how best to combat any anxiety that might be present during initial visits. Though not as specialized as a pediatric dentist, family dentists can still provide both children and their parents with excellent and necessary care.
How is a family dentist different from a regular dentist?
The word "family" is the key way to differentiate a family dentist from a regular dentist. It's important that your children see a family dentist who can provide care at every stage of their development. Family dentists can compassionately support your children through learning how to properly care for their teeth to straightening a smile through orthodontics to extracting an impacted wisdom tooth. Family dentists give your children a chance to build a rapport with their dentist over the course of their lives — and develop healthy habits that will support their oral health for years to come.
How can Lockhart Dentistry help entire families?
At Lockhart Dentistry, we are conveniently located and ready to provide excellent dental care to every member of your family. Make your trip to our office into a family outing or bonding experience that everyone can share. Since we can treat your entire family at our office, you can easily schedule and attend everyone's appointments. 
Lockhart Dentistry provides a range dental services for your family, including:
Preventative care

, which features a thorough professional-grade cleaning of all of your teeth, plus a close exam to catch any potential issues with decay, gum disease, and other issues early. Preventative care at Lockhart can also include simple fluoride treatments to strengthen your smile, sealants to protect the nooks and crannies of your teeth from bacteria and decay, digital x-rays to identify problems below the surface, and painless oral cancer screenings.

Orthodontics to straighten your smile into a grin you can be proud of. Lockhart Dentistry uses Invisalign clear aligners to help even adults achieve the smile of their dreams, addressing issues like teeth crowding, abnormal spacing, overbites, underbites, and crossbites.
Extractions and oral surgery for cases in which teeth become too damaged to save, such as teeth with severe decay, severe gum disease, infection, and breaks and cracks. Some orthodontic corrections require extractions to help address badly positioned or crowded teeth.
Dental implants as a viable and natural solution to replacing the missing teeth in your smile. In this procedure, a screw is implanted in your jaw bone. Over time, the implant will fuse to your bone, offering a secure and permanent treatment.
Periodontal therapy to help resolve cases of gum disease. During your initial exam, your dentist will check for color changes, bleeding, swelling, and recession in your gums. These are telltales signs that you have gum disease, which can cause pain, sensitivity, and, in extreme cases, tooth loss. Scaling and planing are minimally invasive procedures to clean your teeth and rid them of plaque so your gums can heal and reattach to your teeth.
Tooth-colored fillings to address decay without compromising the brightness of your smile. Fillings are the most effective way to treat cavities, halting the spread of decay. However, many fillings in the past used to be completed with metal, darkening smiles. Now, resin fillings make naturally colored fillings possible.
Lockhart Dentistry even offers affordable options for your family to ensure that everyone gets the dental care they need for a healthy and happy smile. The Lockhart Dentistry Smile Club is a simple way for those who lack dental insurance to get the care they need. Click here to learn more!