A good oral hygiene routine, preventative care, is something that should be a part of everybody's life. Taking care of your teeth regularly will reduce the likeliness of you ever developing an infection or serious disease, and the chances of you developing cavities. Brushing your teeth with any type of toothpaste is certainly better than not doing it at all. However, the topic of the best type of toothpaste is a conversation that seems to come up again and again.
If you've been scratching your head about if the type of toothpaste you use really matters, then you'll appreciate this collection of information on the topic. Are all toothpastes really created equal? 
Fluoride vs. Non-Fluoride Toothpaste
Fluoride is a beneficial and naturally-occurring mineral that actually protects the teeth from plaque build-up and the development of cavities. It works as a sort of protective barrier that goes just one step further in providing more protection in between brushing. While most adults should use fluoride toothpaste, it is not recommended for children until they are at least two years old. This is because fluoride shouldn't be swallowed and younger children may take a little longer to learn to spit the toothpaste out.
However, some adults elect to go fluoride-free as well. While this is not a typical option, sometimes it is the right one. This choice is typically made because of their exposure to fluoride in their drinking water. Most municipal water is treated with fluoride, and sometimes people think that they are already getting enough of it via that route.
However, it is important to understand that fluoride is most effective when it is applied directly to the teeth. If you're concerned about whether or not you and your family are getting enough fluoride, your dentist will be able to provide an assessment. It's best to consult your dentist before choosing to totally eliminate fluoride from your dental routine.
Dentist Recommendation
If you take a stroll down the toothpaste aisle, you'll quickly see that there are many, many options to choose from. How do you know which one is right for you? Fortunately, dentists have collaborated to form a unified list of the most recommended toothpastes based on ingredients and any specialized treatments that they offer.
Crest Pro-Health
This particular toothpaste is accepted by the ADA in six categories. It not only whitens teeth, fights cavities, and protects against tooth sensitivity, but it also prevents gingivitis and combats bad breath.
Sensodyne ProNamal Gentle Whitening Toothpaste
This type of toothpaste is ideal for individuals who struggle with tooth sensitivity. It can be difficult or people with sensitive teeth to whiten their teeth, but this toothpaste gives them that chance.
Arm and Hammer Dental Care Advance Cleaning Mint Toothpaste with Baking Soda
This option is created for repair in mind. If your teeth could use more protection against plaque build-up, then this is a fine choice. The mint flavor is subtle and refreshing.
Colgate Total
Colgate Total is a comprehensive formula that fights plaque for up to 12 hours. There are various types of Colgate Total that promote teeth whitening, reduce sensitivity, and even deep clean your teeth and gums.
Tom's of Main Natural Anticavity Fluoride Toothpaste
Some patients prefer a more natural approach to teeth cleaning. If this sounds like you, then you'll appreciate this all-natural toothpaste that includes fluoride.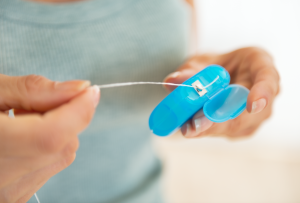 Importance of Brushing and Flossing
While the best type of toothpaste may take some time to narrow down, regular brushing and flossing should always be part of your health routine. Not only will this help combat regular issues like cavities and staining, but it could also help you avoid severe dental infections and diseases. Your teeth are such an important part of your health, and it's certainly worth your time to make your oral health a priority.
 Additional tips for quality oral hygiene:
Schedule regular dental visits

Avoid foods and drinks that cause cavities

Change out your toothbrush every three months and between illnesses

Take notice of any changes in your teeth or gums

Avoid chewing on ice, pen caps, or other hard objects

Use a mouthguard when participating in contact sports

Use additional products such as a water pick or mouthwash

Reach out to your dentist right away if you suspect disease or infection
Doing these simple things can go a long way in promoting your oral health and keeping your smile looking its absolute best.
Schedule Your Appointment
If you would like to learn more about which toothpaste is right for you, please reach out to our office. At Lockhart Dentistry, we work with our patients to come up with a plan that is right for them. Our knowledgeable staff is ready to answer your questions and schedule you in for your initial appointment. We look forward to helping you achieve the smile you deserve.
Give us a call today at (317) 849-9715.