Lockhart Dentistry, Indianapolis
Welcoming New Indianapolis Dental Patients
Dr. Bruce Lockhart and staff invite you to experience gentle modern dentistry with a heart.
We look at dentistry differently — not as a chore for patients, but as a path to a better future. Dr. Lockhart has been caring for Indianapolis area families for over 26 years, offering quality dental care tailored to the needs of children, adults, and seniors.
It's Easy to Make an Appointment with Dr. Bruce
Call (317) 849-9715 now, or send a message.
---
[one_fourth]
Family Dentistry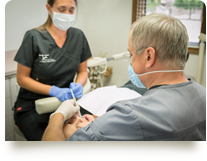 When thinking about a trip to the dentist, you probably think…
Cosmetic Dentistry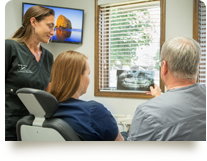 They say if you smile at the world, the world smiles back at you…
Our Dental Practice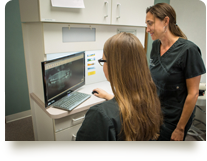 We are a dental office devoted to you! I'm Dr. Bruce Lockhart and…


[/one_fourth]
[one_fourth_last]
New Patients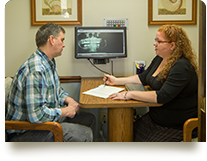 From the moment you walk inside you will be treated to…


[/one_fourth_last]
---
[two_third]
You Can Feel Comfortable Knowing Your Treatment Has Over 30 Years Of Dentistry Experience Behind It
We are a dental practice devoted to restoring and enhancing the natural beauty of your smile using conservative, state-of-the-art procedures that will result in beautiful, long lasting smiles.
A standard of excellence in personalized dental care enables us to provide the quality dental services our patients deserve. We provide comprehensive treatment planning and use restorative and cosmetic dentistry to achieve your optimal dental health. Should a dental emergency occur, we make every effort to see and care for you as soon as possible.
Testimonials from Our Dental Patients
"Above and beyond! Our son broke off a tooth on A Tuesday evening. Dr. Lockhart and his staff are not scheduled to be in the office on Wednesdays. We nevertheless called the emergency number he provided first thing Wednesday morning. Dr. Lockhart promptly returned our call and we made arrangements to meet at the office. Dr. Lockhart was very thorough with his examination. He and McKenzie took great care of our son and got him fixed up. Always the highest level of care and customer service. THANK YOU!"
Heather B.
"Great environment, courteous friendly and professional staff. I look forward to my dental visits because Danielle is welcoming and focused on my dental health and Dr. Lockhart is always attentive and clear in his care and explanations."
-Joseph O.
"At the doctor's recommendation, an old silver filling was replaced with enamel. This accomplished two things. It provided an opportunity to assess the health of the tooth-as it is a deep and old filling. And secondly it improved the visual of the mouth by having a filling material which blends with the tooth color. Though no further care is needed at this time, it is valuable to know what may be necessary going forward which eliminates the dreaded element of surprise in dental care. Dr. Lockhart and his staff create a comfortable, caring environment which puts the patient at ease while undergoing what might otherwise be an anxiety filled procedure. All aspects of the office visit were professional, efficient and most important of all – painless."
-Karen P
[Read more testimonials from our dental patients…]
[/two_third]
[one_third_last]
Become Our Patient Today
If you have an emergency, please contact our office by phone immediately. Once submitting your request, you will receive a follow up call within one business day.
[/one_third_last]